In the spirit of the season, I thought I'd focus on thanksgiving today.
Not the holiday.
The heart attitude and life changing perspective of gratitude.
One of my absolute favorite writers, Ann Voskamp,
wrote a book called "One Thousand Gifts."
In it she explains the simple yet profound truth that
giving thanks for something every day can literally change your life.
She goes through her own life story - and much of it is agonizing and tragic-
and gives God thanks for the little things through it all.
The little things that most of us would miss.
She sees them.
Because she makes a choice to see them.
Thankfulness is a choice.
How many little things do we miss because we're focused on all the big things that went wrong?
Life is definitely tough.
There's no getting away from that reality.
But our attitude can make or break us.
When tragedy strikes, do we blame God for the pain?
Do we blame ourselves for what we did or did not do?
Do we blame someone else?
Or, do we thank God through it?
And give ourselves grace to be imperfect?
Do we offer that same grace to others?
Thankfulness is a choice.
It's not something we can just fall into.
We have to pick it up.
When the snow is piled high in our lives, we have to dig until we find it.
Our hands may get cold.
We may start to shiver.
But when we find it...oh the warmth that takes over.
Thankfulness becomes a warm blanket to our cold souls.
It brings relief.
It brings joy.
It brings life.
Thankfulness is a choice.
It can literally save your life.
Without it, we are dying a slow, painful death of soul- hypothermia.
We become bitter and cold to the blessings in life.
We become frozen where we are.
Stuck.
But when we say, "Thank You, God", JOY ENTERS IN.
And we notice the little things.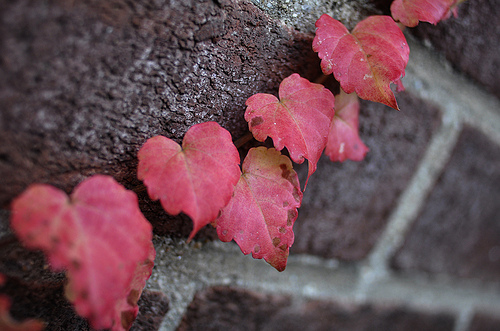 The heart shaped leaf among the huge piles we have been raking all morning reminds us of God's love.
The endless rain on our roof reminds us that He is pouring out His goodness on us until we overflow.
Oh, how so much joy can come from such little things!
You'd be amazed.
Just try it.
Let your heart be embraced by the joy it brings.
I'll start.
Thank You, God, for today.
That I woke up.
That Your mercies are new every morning.
That Your word is true.
That my family is with me.
That my needs are met.
You are the author of all that is good.
And I am thankful.
Buy Ann Voskamp's book here: